Hi HonorBound!
The collection prize The Scarlett Grinner has been upgraded to a 3* mythic. The epics in the collection have been reset so what epics you summoned in the past do not count.
You can claim The Scarlet Grinner by adding friends (using their friend codes). You get +1 favor pr day for friends that didn't log in that day and +5 favor for friends that did. You need 400 favors to summon once from the favor collection. To claim the mythic prize once, you have to complete the collection of 10 heroes (you don' need to keep them in your library).
Notice: your favor points now show in your library as Special Summoning Rune. 
IMPORTANT! At this time the old collection that will give you a legendary Scarlet Grinner is still up. You'll want this one that says 'Mythic Grinner'. Also note that while the icon is a rune, it is set up to use favor points.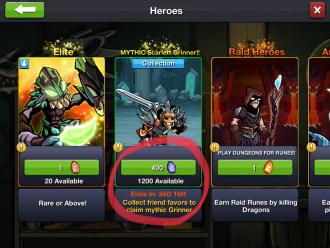 If you aim for a 3* version of The Scarlet Grinner, note the guidelines for evolving a 3* mythic here: http://bb.honorboundgame.com/thread-9.html